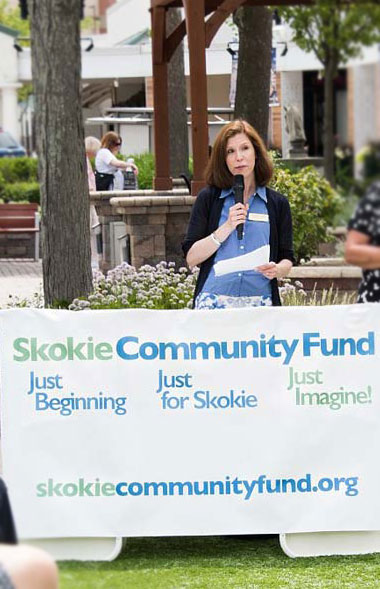 On Tuesday, November 14, 2014, the Skokie Community Fund awarded its first ever set of grants:  $25,000 to local nonprofit organizations that co-applied for grants to serve Skokie residents and enhance the community.  The Fund awarded each of the following five co-applicants $5000 for use in 2015.  In July of 2015 all grantees presented on the status of their programs at a mid-year grant event held at the Cube in Old Orchard.
2015 Grants
The Fund awarded each of the following five co-applicants $5000 for use in 2015.
CJE Senior Life, Skokie Public Library
Village of Skokie Human Services
Consumer Assistance Benefits Counseling Program:  Assist older adults in determining optimal health insurance plans and accessing government benefits both in English and Russian.
Youth & Opportunity United
Skokie/Morton Grove School District 69
Parent Leadership Program:  Training in individual leadership, team building and community outreach and action with the goal of encouraging engagement and participation of the parents of junior high students.
National Able Network
Childcare Network of Evanston
Employment and Childcare Services:  Childcare services for low-income clients to facilitate their participation in job-readiness training.
The Talking Farm
Oakton Community College
Internship program: Developed a curriculum and paid summer internship program to promote urban agriculture through farm-to-table education.
Metropolitan Family Services
Village of Skokie
Youth Counseling Services:  Address the needs of youth and their families who are referred by the Youth Outreach Program and the Youth Ordinance Court.