Genesis of the annual Skokie Healthcare Symposium
The beginning of a tradition rooted in SCF's commitment to Skokie's well-being.
In January 2020, the Skokie Community Foundation and North Suburban Healthcare Foundation (NSHF) reached an agreement to create a new annual Skokie Community Healthcare Symposium.
From 2009 to 2020, NSHF organizations engaged in the delivery of healthcare services and the promotion of community health within the Village of Skokie and surrounding area. Under the leadership of its Chair, Beverley Kroll, NSHF made significant grants to: NorthShore University Health System; The Chicago Lighthouse; Heartland Health Centers; Turning Point Behavioral Health Care Center; Erie Family Health Center Inc., and Zacharias Sexual Abuse Center.
NSHF dissolved in 2020 and as it wound up its affairs, it awarded a grant to the Skokie Community Foundation allowing SCF to continue NSHF's mission of promoting community health by hosting an annual healthcare symposium in Skokie.  In keeping with SCF's commitment to promoting collaboration among local organizations, SCF invited NSHF's prior grantees to work with it on the symposium.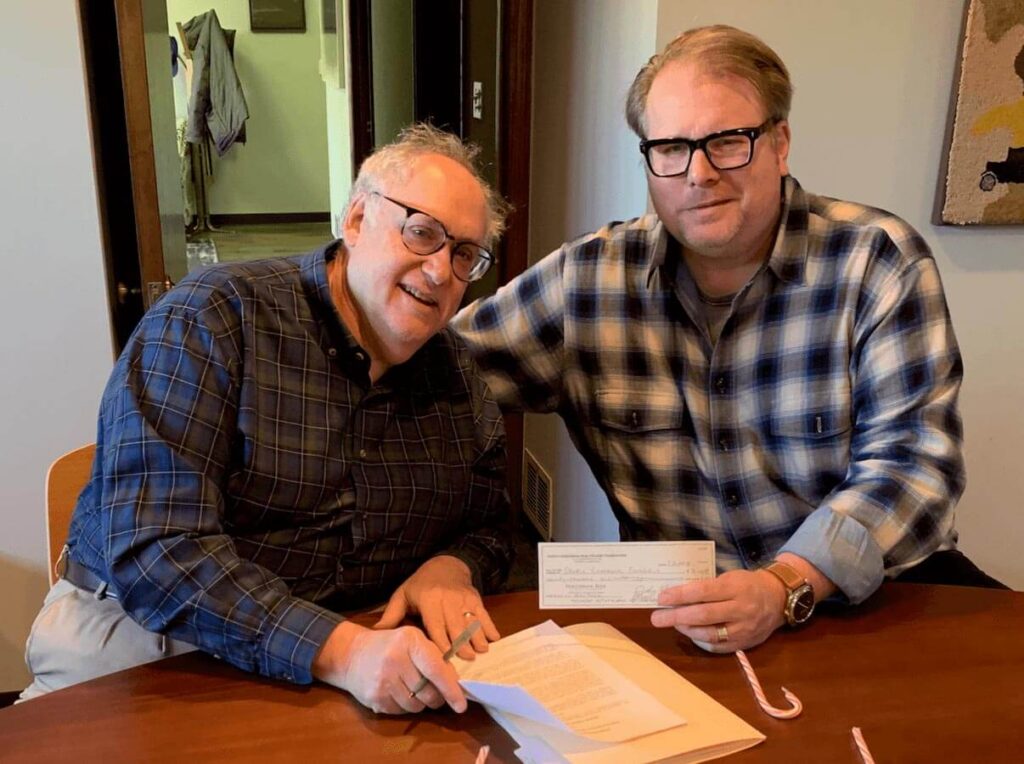 Jeffrey Greenspan (left) of the North Suburban Healthcare Foundation presents SCF Board Chair Zach Williams with a check on December 24, 2019 to fund the new annual Skokie Community Foundation Healthcare Symposium.
SCF is pleased to add this annual healthcare symposium to the work it does for the benefit of Skokie.

On November 19, 2022, SCF hosted its third annual healthcare symposium for the community entitled
Toward Health Equity In Skokie: An Introduction to Collective Impact.
This event offered a seminar and hands-on activities for more than 40 Skokie community partners and leaders.
On October 19, 2021, SCF hosted its second annual healthcare symposium for the community entitled COVID-19: Where We Are.  This online event offered information and resources for dealing with the pandemic, vaccines, and booster shots.