On November 12, 2020, SCF hosted a healthcare symposium for the community entitled Coping with COVID-19. Over 100 people registered for this online event which offered information and practical strategies for dealing with the pandemic and its impact on our lives.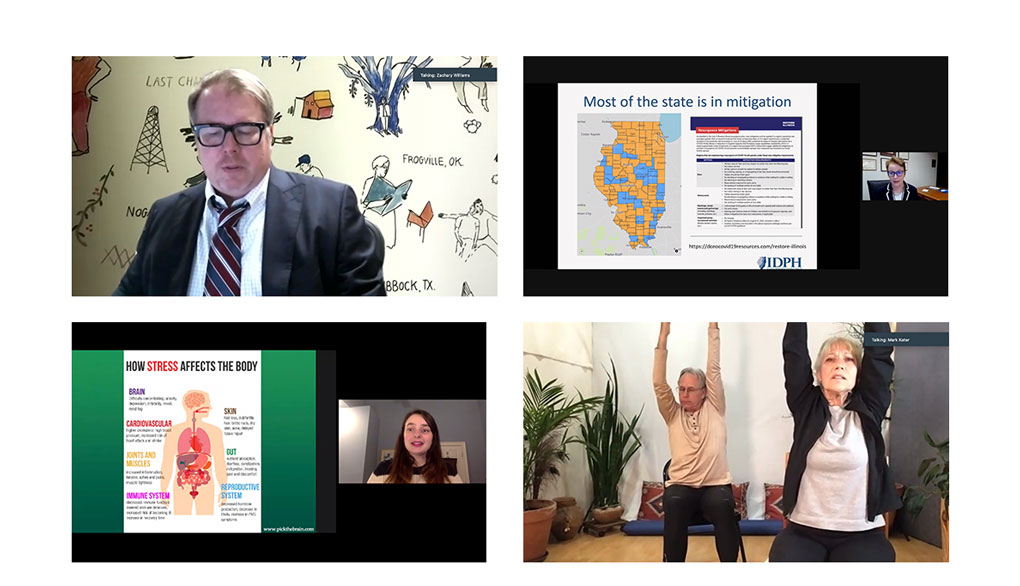 Presenters at the SCF Healthcare Public Symposium on November 12, 2020 included (clockwise) Zach Williams, SCF Board Chair; Dr. Catherine Counard, Illinois Department of Public Health; Mark Kater and Sharon Kater, Turning Point, leading a chair yoga exercise; Cordelia Loots-Gollin, Turning Point.
The ninety-minute program began with presentations by two plenary speakers:
Catherine Counard, MD, Medical Officer for the Office of Health Protection at the Illinois Department of Public Health and former director of the Village of Skokie Health Department, spoke about the current state of COVID-19 in Illinois.
Cordelia Loots-Gollin, LCSW, Turning Point, spoke about maintaining mental, physical and emotional health during the pandemic, including the holidays.
The second half of the event offered attendees the opportunity to participate in one of the following five interactive break-out groups, each of which addressed specific needs and interests.
Taking Care of Yourself:
Offered ways to destress and included an opportunity to practice chair yoga and breathing techniques.
Supporting Children Ages 0-14:
Educated attendees on how to support the social/emotional well-being of children in the face of the limitations created by the pandemic.
Supporting Young Adults:
Explored ways to respond to normal stress behaviors and how to recognize the warning signs of more serious mental health concerns for high school and college age young adults.
Active Adults Staying Connected:
Addressed the increased isolation many seniors have faced during the pandemic and offered ideas on how to help them stay safely connected with the outside world.
Creating Community Connection:
Discussed the importance of coming together with others to create a sense of purpose and belonging, benefiting both individuals and the community especially during the pandemic.
Click below to watch the presentations of Dr Counard and Ms. Loots-Gollin at the symposium.
In addition to the public symposium in November, on September 9, 2020, SCF hosted a symposium for nearly fifty professionals from healthcare and related fields entitled COVID-19: Local Lessons Learned.
During this three-hour event, professionals presented information and discussed best practices for handling the various complications of service delivery due to the pandemic. They also discussed how to proceed in the future to most effectively serve their constituencies.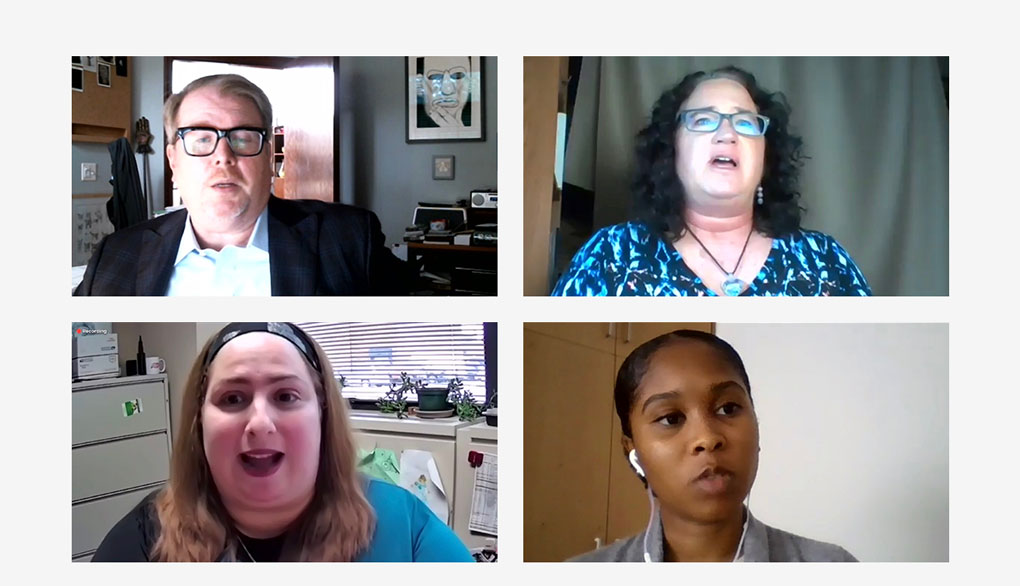 Presenters at the SCF Healthcare Symposium for Professionals on September 9, 2020 included (clockwise) Zach Williams, SCF Board Chair; Valerie Walker, LCSW, ACSW, Director of Services, Zacharias Sexual Abuse Center; Karelle Webb, RN, MPH Compliance and Clinical Education Nurse, Erie Family Health Center; Ronit Peikes, MSW, LCSW, Human Resources Director, Turning Point.
Both the public and professional symposia were presented by the Skokie Community Foundation in partnership with Chicago Lighthouse, Erie Family Health Centers, Mental Health America of the North Shore, North Suburban Healthcare Foundation, NorthShore University HealthSystem, Skokie Chamber of Commerce, Skokie Park District, Skokie Public Library, Skokie School District 69, Skokie Resilient Community Collaborative, Turning Point Behavioral Health Care, Village of Skokie, and Zacharias Sexual Abuse Center.