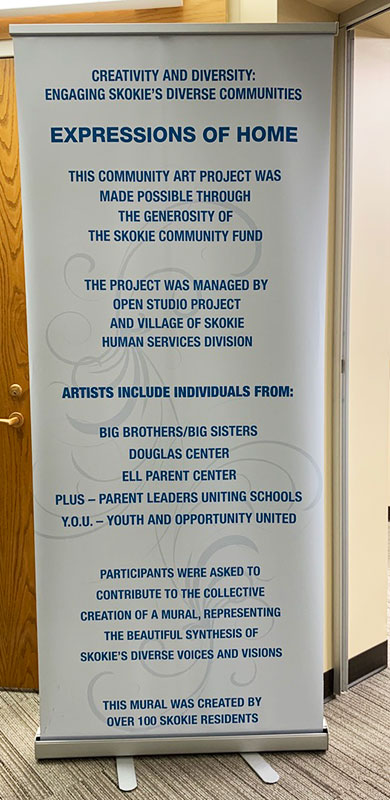 On November 17, 2015, in a ceremony at the Skokie Public Library, the Skokie Community Foundation awarded its second set of grants in amounts ranging from $3000 to $5000 and totaling $25,000 to six sets of partnered organizations for the benefit of the community.
2016 Grants
The Fund awarded a total of $25,000 to the following organizations:
Open Studio Project
Village of Skokie Human Services Division

Community Mural: Skokie residents created a mural for the entrance to the Village of Skokie Health Department and Human Services Division.
English Language Learner Parent Center
FAMA Bilingual Center for Family Caregivers

Health Literacy Education for Immigrant Families: Workshops to help immigrant families more easily navigate the healthcare system and access care for a healthy life.
Orchard Village
Stillpoint Theatre Collective
Skokie Public Library
Educational Film Documentary: A program to feature the accomplishments of adult Skokie residents with developmental disabilities as they created and performed an original work of theatrical self-expression.
Youth & Opportunity United
Skokie/Morton Grove School District 69

Community School Initiative: Increased community engagement and parental leadership for families at Lincoln Junior High and Edison Elementary.
Douglas Center
Skokie Public Library

Next Chapter Book Club: A bi-weekly book discussion group for adults with developmental disabilities.
YWCA Evanston/North Shore
Skokie Public Library

Racial Justice Programming: Twelve monthly discussion sessions to deepen understanding of the impact of race on day-to-day live in Skokie.