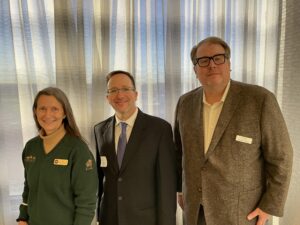 Out Our Front Door and Emily Oaks Nature Center were awarded an SCF Grant to fund bike riding and camping experiences for Skokie teens, who would not otherwise get such opportunities.
2022 Grants
SCF awarded a total of $25,000 in grants to the following organizations:
Connections for the Homeless
Village of Skokie Department of Health & Human Services 
Housing security: Flexible funding to prevent Skokie families from spiraling into homelessness. Some examples include:
Paying for car repairs so people can get to work and maintain income.

Buying a bus ticket for someone to travel to family out-of-state where they can live permanently.

Offering gift cards for household expenses in situations where people are "doubled-up" or couch surfing so they can maintain housing.
Out Our Front Door
Emily Oaks Nature Center
Biking and camping experiences:  Skokie teens, who would not otherwise get such an opportunity, develop biking and camping skills. Some students are differently abled; others are teens who might not be able to afford a bike.  Each participant received a bike, retrofitted to suit their abilities, if necessary. All participants received instruction on how to maintain and repair their bicycle.
Oakton Community College
Village of Skokie
Workforce certification: Village of Skokie Human Services social work staff members identify  Skokie clients who will benefit from enrollment in a short-term certificate program at Oakton Community College. Funds support costs for tuition, fees and books. The Oakton academic advisor works closely with the resident as they progress through their coursework, and, when nearing completion, assists the student with job readiness/interviewing skills, resumé development and job search techniques. Human Services staff remain in contact with the resident after coursework completion. 
Turning Point Behavioral Health Care Center
Skokie School District 68
Teen mental health: Support for young people in the wake of the new COVID-19 reality. Turning Point therapists used conversation and other creative avenues of expression to provide a safe space for youth to talk about trauma, with specific focus on the extraordinary pandemic challenges of the past two years.