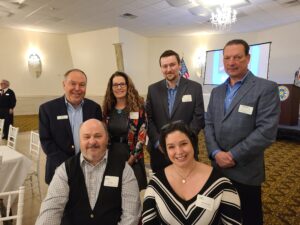 With the help of a $5,000 contribution from First Bank Chicago, Skokie Community Foundation (SCF) was pleased to award a $15,000 grant to Connections for the Homeless to continue their 2022 SCF-funded project.
Pictured from left to right:
Back Row – SCF Board Member Randy Roberts, SCF Vice Chair Ann Tennes, Connections for the Homeless Associate Director of Development – Institutional Giving Sam Adams, and SCF Executive Director Jim Szczepaniak.
Front Row – SCF Board Member Bob Quane and Connections for the Homeless Director of Development Nia Tavoularis.

2023 Grants
SCF awarded a total of $25,000 in grants to the following organizations:
Connections for the Homeless
Village of Skokie Department of Health & Human Services 
Housing security: renewal of a grant awarded in 2022 providing flexible funding to prevent Skokie families from spiraling into homelessness. Some examples include:
Paying for car repairs so people can get to work and maintain income.

Buying a bus ticket for someone to travel to family out-of-state where they can live permanently.

Offering gift cards for household expenses in situations where people are "doubled-up" or couch surfing so they can maintain housing.
Thank you to First Bank Chicago for contributing $5,000 toward this grant.

Early Childhood Alliance
Niles Township District for Special Education
Early childhood behavioral and learning support:  consultations by social workers to provide support for families and teaching staff of children in Skokie preschools and daycare identified as having behavioral and learning challenges. Social workers observe the child in the classroom and meet with the teaching team to share their observations around routines, transitions, and strategies to use in the classroom to help the child. Social workers also meet with the family to share their observations and suggest next steps which may include referral to outside therapeutic clinics for the child or additional family supports.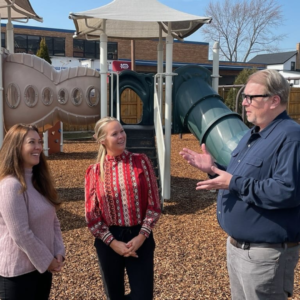 Tina Vanderwarker, Director of Early Childhood Alliance, Niles Township, (left) and Joanna Varda, Executive Director of Swift Child Care Early Childhood Centers, meet with SCF Chair Zach Williams to inform him about progress on SCF's 2023 grant to ECA. The $10,000 grant provides support for children in Skokie preschool and daycare who might have behavioral and learning challenges.